November 14 – 16, 2016 – The NESA Center's Strategic Studies Network (SSN), in partnership with the European Institute of the Mediterranean (IEMed) and the EuroMeSCo network, held a policy workshop in Washington on EU and US Policies in the Mediterranean Region. Thirty-one senior diplomatic officials and researchers from a variety of countries, including Algeria, Belgium, Spain, Turkey, Libya, and the United Kingdom, in addition to U.S. Government officials, gathered to analyze EU and US policy towards the Mediterranean. The conference specifically addressed the contrasting approaches that have been implemented by the EU and the US over the past few years towards North Africa and the Levant, and provided an opportunity for participants to discuss new policy insights, approaches, and recommendations for future regional and international leadership in light of the new US and EU Presidencies.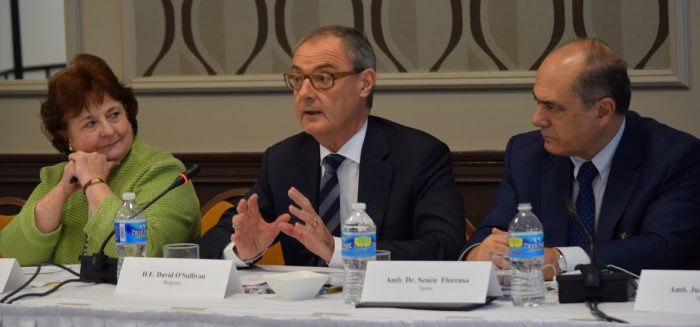 NESA Professors Anne Moisan and Jennifer Jefferis, along with Amb. Dr. Senen Florensa and Mr. Roger Albinyana of IEMed, integrated several thematic discussions into the seminar, including an analysis of current trends in North Africa and the Levant and the EU and US approaches to both sub-regions, with the aim of reaching of shared EU – US vision towards the MENA region. Several diplomatic officers, including Ambassadors, Deputy Chiefs of Mission, and Ministers from in-region embassies in Washington, in addition to U.S. State Department officials, were able to conduct a candid conversation on relevant issues within the MENA region.

High-profile speakers including the EU Ambassador to the U.S., H.E. David O'Sullivan, the Spanish Deputy Chief of Mission, Ms. Cristina Fraile, and the interim Libyan Chargé d'Affaires, Ms. Wafa Bughaighis, were in attendance.   On Nov. 15, Dr. James M. Lindsay, Senior Vice President and Director of Studies at the Council on Foreign Relations (CFR), delivered remarks during an ambassadors' luncheon on the new US Presidency and its implications for US foreign policy.